Roof Replacement & Repair Services for Flat Roofing Systems in New England
Does your business have a flat roof? While you may be able to avoid the typical problems seen with traditional sloped roofs, flat roofs have their own issues. Fortunately, US Roofing offers high-quality maintenance, repair and replacement services specifically for flat roofs.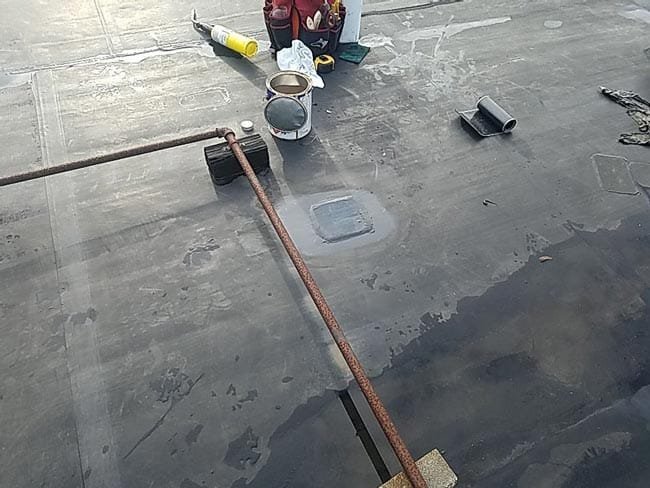 Flat Roof Replacement
Routine maintenance and periodic repairs can extend the life of your flat roof but, eventually, repairs can become more hassle than they're worth. If your roof has sustained major damage or has simply aged beyond effective repair, US Roofing can provide a high-quality roof replacement. Our skilled roof replacement experts can install a new roof without disrupting your normal business hours. We can remove your existing roof, replace it with new materials and restore its integrity.
Flat Roof Repair
US Roofing is proud to offer comprehensive flat roof repair services to remedy any leaks or other issues with your commercial facility. Our team will thoroughly inspect each level of your flat roof, including the waterproofing, insulation, vapor barrier and timber deck. Then we can fix any problem areas, cover your roof with a seamless coating and prevent future leaks from forming.
Flat Roof Maintenance
Splintering, blistering and leaks all have the potential to wreak havoc on a flat roof. Excess heat can cause air blisters to form, while freeze/thaw cycles in the colder months can lead to splits and cracks in your flat roof. All of these issues can seriously compromise the structural integrity of your roofing system, but routine maintenance will stop these threats in their tracks. US Roofing can regularly inspect your flat roof to detect roofing issues in their earliest phases. Using our diagnostics, we can then customize efficient repairs to get your roof back to a durable, high-performing state.
Request a Free Estimate Today
US Roofing has been providing outstanding flat roof maintenance, repair and replacement services since 1977. To learn more or to request a free estimate, please call or or contact us online. When quality and experience matter to your business, turn to US Roofing!